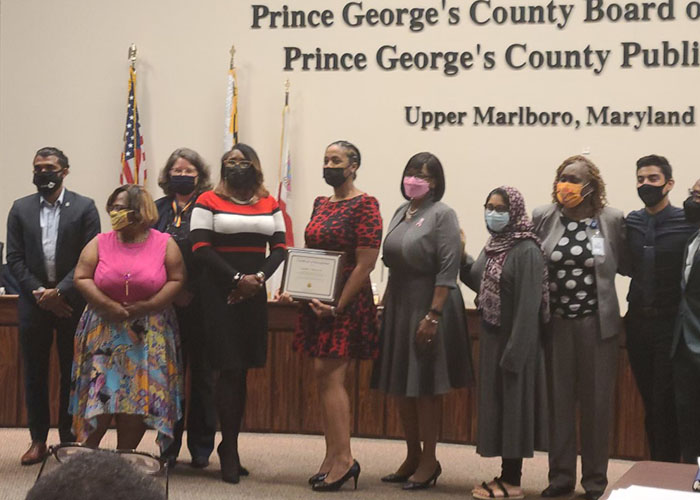 Danielle (center, holding plaque) receives the certificate.
Recognition from Prince George's County, MD
Danielle was recently awarded a Certificate of Recognition from Prince Georges County Public Schools in recognition of her work in the community. In addition, the Prince George's County Council recognized her with a proclamation.
Danielle accepts the proclamation from the Honorable Sydney J. Harrison
Maryland to Flint Water Drive
On February 13, 2016, the MD to Flint Water Drive collected, transported, and helped distribute some 33 hundred cases of water in Flint Michigan. Not to include the several hundred 1 gallon jugs. That equates to over 51 pallets of water. Machinery only got introduced when we got to Flint, but even there most of the unloading and staging was done by hand. We delivered the water and the people of Flint received our donations with gladness. Every water bottle and financial donation collected in MD had a purpose and were collected and used with integrity. All the water brought to Flint from MD delivered was gone by that evening. The MD to Flint Water Drive initiative plans to deliver water quarterly. The need for fresh clean and abundant water is still very strong for the residents of Flint.
Words, Beats, & Life Inc.
Words Beats & Life began as a conference at the University of Maryland in the fall of 2000; the founders worked to create a vehicle to transform individual lives and communities through Hip-Hop. Today, Words Beats & Life uses a holistic approach to youth and community development that involves hip-hop artists, scholars, educators, activists, and allies.